An End to Racism?

Rev. Don Ashmall
In November the General Board of the National Council of Churches of Christ in the USA (NCC) committed to an unprecedented action and process. The thirty-eight communions of the NCC will, individually and collectively, engage in a "truth and reconciliation" effort. The goal is to seek an end to racism in the USA. The effort has precedent in the truth and reconciliation process in South Africa, but will require additional effort and dedication since the history and position of Christian communions in the USA is so deeply intertwined in and with the "powers and principalities" that affect life so deeply in the nation.
This new action and process will be launched in an event on the National Mall in Washington DC on Wednesday, April 4, 2018. That date is the fiftieth anniversary of the death of the Rev. Dr. Martin Luther King, Jr. The NCC General Board has challenged each of the thirty-eight member communions to enlist a minimum of 500 people to be present on the Mall that day.
The previous evening, April 3, an ecumenical worship in the District of Columbia will prepare attendees for the launch event. Other groups both secular and faith-based are being asked to endorse the truth-telling process, and to participate in the launch event as well as follow-through actions. The General Board has committed $300,000 to the action and process and has directed NCC staff to seek additional funding from foundations and other sources.
The ICCC became a member of the NCC in 1957, after participating informally since shortly after both were formed in 1950. Ever since then our representatives on the General Board and in other bodies within the NCC have been tireless in our witness for justice and reconciliation as well as Christian unity. When the NCC General Board took on this historic commitment, I was overjoyed and so very grateful that I could represent you as the NCC board voted unanimously to move forward. Our Board of Directors and Board of Trustees have both endorsed the NCC action and are urging all within our fellowship to support and participate as we are able.
The launch event will require a great deal of work. Happily, NCC staff are already working with consultants who have organized other large events on the Mall. The broad outlines are already emerging, with nineteen committees needing to be staffed by volunteers. Some volunteer work can be done at a distance, but much of the burden will of necessity fall on congregations within 100 miles of the National Mall. Thank you in advance to the ICCC folk who will take the lead!
The biggest challenge will begin after the launch event. The process will not be easy. Customary processes and long-held assumptions will be revealed to be inadequate and morally deficient, and will need to be changed. Change is always threatening, and when privilege is challenged, the threat is all the greater. Yet if justice is to be served and reconciliation achieved, change will be required. Beginning now, please pray that the ICCC can and will, both within the NCC and beyond it, take our customary place as a change agent and as a leader in Christian work and witness.
Will you be there for the launch? Will your congregation, area or region arrange for one or more buses to take you and others to DC April 3 and 4? Will you be willing to serve on one of the nineteen launch committees? Please contact Council House as your plans advance so that we can share the word with the entire fellowship.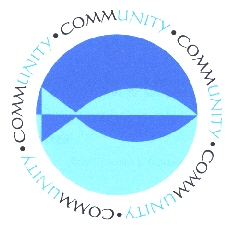 International
Council of
Community
Churches
an ecumenical interracial communion, seeks
(Full- or Part-time)
EXECUTIVE DIRECTOR .
We are looking for an eager person wanting to lead our communion forward in meaningful Christian work for: growth, racial reconciliation and exploring diverse ways of being church in the 21st century.
EXTENSIVE TRAVEL REQUIRED. EOE.
ICCCDirectorApplications@gmail.com
Why take 18 minutes of your life and watch this TEDx talk, "How Great Leadership Inspires Action," when you already have too much to do today?
It will change how you lead.

It will change how your churches make a difference.

It will get results.

You WILL want to show it to your leaders!
I highly recommend Simon Sinek's TEDx talk on leadership. In it he discusses that we must begin with "Why?" before we get to "How?" or "What?" Every effective leader must deal with the neuroscience/brain research which supports this information.
Click here! It may be the best investment of 18 minutes of your day.
Rev. Stephen York,
VP for Leadership Development
RESPONDING TO HURRICANE HARVEY & IRMA
Imagine Church, Charlotte, is hosting a benefit musical concern to raise awareness and funds for St. John and the US Virgin Islands on Sunday evening, October 15, 2017 at 6:00 p.m.
Pastor Bruce Jones' daughter and son-in-law, Lauren and Bo Magnie, are musicians and recording artists who reside at St. John and though their house was spared, many of their neighbors lost everything in the devastation wrought by Hurricane Irma. They will perform the concert with free admission and the hope that patrons will make a contribution to St. John Rescue, a relief effort that has been established.
The recovery efforts at St. John will likely take months as Centerline Road, the main thoroughfare from Cruz Bay in the South to Coral Bay in the North remains impassable, and electricity has yet to be restored to most parts of the island. Many of the tourist resorts and restaurants have been heavily damaged or destroyed.
_______________________________________________________________________
Church World Service partners with local churches and church agencies in responding to natural disasters. This is more cost efficient, and allows for more flexibility in meeting both immediate and long-term needs.
Financial gifts are easily sent to Church World Service. Simply send your check to the ICCC, 21116 Washington Parkway, Frankfort IL 60423. Be sure to mark "CWS-Harvey" on the check; the full amount of your gift will be sent along to Church World Service immediately.
May God bless you in your sharing.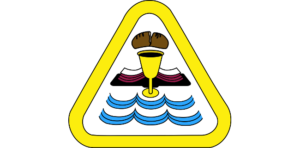 Churches Uniting in Christ, a gathering of 11 communions in a covenantal relationship, affirm and support the dignity of all people and to the care for the gift of the earth that God has entrusted to us. It is, for this reason, we join with the Standing Rock Sioux Tribe, and the dozens of tribes standing in support of their efforts to protect their sovereignty, water, culture, a way of life, and their sacred sites.

To view the entire statement, recently signed by Abraham Wright, ICCC Secretary and other ICCC officers, click here.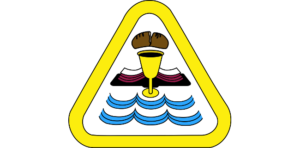 "I hope we can all reach out to member communions in Greenville, MS and offer our prayers, our resources and our buildings, if necessary." – Vince Gonzalez, CUIC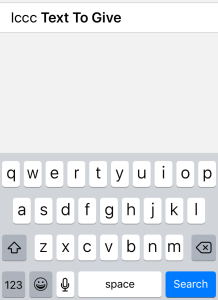 Give By Text
Do you pay for all your "things" online? Why not make your donations electronically as well?
We want our members to contribute when and how they want. The ICCC offers an electronic giving option… Give by Text, as a convenient alternative to checks or cash.
In less time than it takes to write a check, you can make weekly offerings or respond to special appeals by simply sending a text message from your smartphone. Sign up today and be liberated from your checkbook!
Simply send a text to 815-506-9017 with the amount you would like to contribute. Make sure to include the dollar sign before the amount. Example: $25. Within a few minutes, you'll be sent a text with a link to register. Click on the link and enter your cardholder name and credit or debit card information. Once your registration is complete, you will receive a text verification and a receipt via email.
Thank you for supporting our mission!


Direct Thrivent Choice Dollars®.
GIVE THANKS.
During this special time of year, we pause to reflect on all that we have to be thankful for. Family, friends, faith …
We are pleased to announce that the ICCC has recently been accepted into the Thrivent Choice program.
One way eligible Thrivent Financial members can show their thanks is by directing Choice Dollars to the ICCC. If you're a Thrivent member who has designated Choice Dollars
®, please take this opportunity to recommend where Thrivent distributes some of its charitable grant funds by directing them to the ICCC. Thrivent Choice grant funding will be used for Ecumenical & Interfaith Relations, and for our three missions: Agape, Creating Community, and Feeding the Hungry.
To learn more about Thrivent Choice, visit Thrivent.com/thriventchoice. Or call Thrivent at 800-847-4836 and say "Thrivent Choice" when prompted.