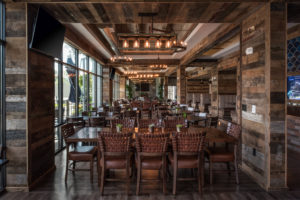 SUPPER CLUB

Tuesday, July 16, 2019
5:00pm
River & Post is a culinary driven restaurant in a warm, modern setting where they strive to captivate their guests with quality ingredients, impeccable service and memorable accommodations for any occasion. Visit www.riverandpostjax.com for restaurant information. Below are the menu choices for this optional event.
Choice 1:

R & P Burger $18.00
Half pound house ground burger on brioche bun, cheddar cheese, lettuce, tomato, onion, pickle & R&P sauce, served with house fries.
Choice 2:

Fried Shrimp Platter $29.00
Served with house fries, coleslaw and hush puppies.
Choice 3:

Buttermilk Fried Chicken Thighs $30.00


Served with mashed potatoes and market vegetables.
Choice 4:
Grilled Salmon $32.00
Served with basmati rice and market vegetables.
Choice 5:

Seared Sea Scallops $36.00
Served with basmati rice and market vegetables.
Each choice includes soft drinks (Coke, Diet Coke, Sprite, Lemonade or Ginger Ale), Sweet or Unsweet tea, tax and gratuity. Alcoholic beverages are available, billed separately, individually.