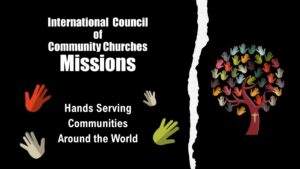 2022 ICCC Hurricane Relief Offering
Many have been shocked and saddened by the recent destruction wrought by Hurricane Fiona in Puerto Rico, the Dominican Republic and Bermuda and then by Hurricane Ian in Florida and the Carolinas. What saddens us even more is that one of our ICCC churches, Peace Community Church in Fort Meyers, FL, finds itself in the midst of some of the worst destruction brought to bear by Hurricane Ian.
As a result the ICCC is giving the opportunity to contribute to a 2022 ICCC Hurricane Relief Offering. This offering will be divided with 50% being given to Peace Community Church in Fort Meyers, Florida, and the other 50% going to the Church World Service 2022 Hurricane Season Appeal. Those interested in giving toward this relief offering may send your gifts to: ICCC, PO Box 846, Longmont, CO 80502. By sending your gifts through the ICCC office, your church will receive credit toward ICCC mission giving for the year.
In recent days we have learned from Peace Community Church, and their pastor, Rev. RC Fleeman, that the church building took on about 1 ½ feet of water from Hurricane Ian's storm surge. Several church members have been left homeless, so the church is seeking to offer basic needs such as a place to stay, or the opportunity to shower or wash clothes, gasoline for generators, water and ice, pet food, etc. Even though some basic relief supplies such as food and water are coming into the area in the short term, the needs will go on for weeks and months to come. Plus, it is not just church members in need, but the church is seeking to provide aid to low-income families and individuals throughout their community who are now dealing with damage or loss of housing, plus loss of employment because of the storm damage to places of employment. The massive need in the Fort Myers community will remain for many months to come, and the church will strive to need those needs in their community through the church's "Helping Hand Fund". We as an ICCC family want to stand with our kindred in Christ at Peace Community Church in their ministry following this historic storm.
The needs resulting from recent hurricanes stretch much farther than the Fort Meyers, Florida area, so the other half of this offering will benefit the ICCC's mission partner, Church World Service (CWS). CWS has issued a 2022 Hurricane Season Appeal which will provide relief from both Hurricanes Fiona and Ian, plus any other hurricanes which may strike during the remainder of the 2022 hurricane season. Thus far CWS is working on relief efforts in Puerto Rico, Cuba, Florida and South Carolina.
Please continue to keep all those affected by Hurricanes Fiona and Ian in your prayers and please consider a gift to our 2022 ICCC Hurricane Relief Offering.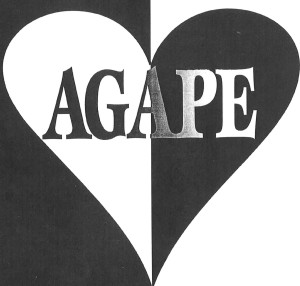 The International Council of Community Churches is moving forward! In the history-making 2015 Annual Conference, delegates from our member congregations approved three on-going outreach missions that will form the core of our fellowship's work and witness into the future:
Agape – learning and practicing reconciliation in face to face encounters;
Creating Community – sharing success in making "community" more than a word;
Feeding the Hungry – cooperating in ministry to feed the hungry.
The energy, creativity and application will come from within the community church movement as we show the world what it means to answer Jesus' prayer "that they might all be one."
We invite you and your congregation to take a vital part in each of these outreach missions. Together we'll be seeking God's will as we share "best practices," develop new strategies and seek new partnerships as we reach out to the world God loves so much.
Will you personally become a member of one of these outreach mission teams? We need to hear from you. In addition to your contact information, please send a brief description of your experience and/or expertise in your chosen area of outreach mission to ICCCNOW@sbcglobal.net. Will you enlist others so that your congregation is represented on all three teams? The first task of each team member will be to share enthusiasm for the outreach mission with others?
For more information, click on the individual mission above. There you will see a wider explanation of the mission's goals and the contact information its leader.
Thank you for your support and the support of your congregation for the growing ministries of the International Council of Community Churches: support by prayer, by involvement and by material gifts.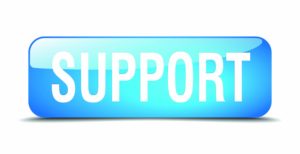 CELEBRATE! I.C.C.C. IN MISSION TOGETHER!
CELEBRATE! MISSION ACCOMPLISHED – TOGETHER!
Special Report to the Christian Community from Past President Rev. Dr. Bruce N. Merton and newly elected Council Secretary.
Churches, ministry centers and individuals of the I.C.C.C. – CELEBRATE!
CELEBRATE the successful completion of a mission together unlike any we have had in recent memory!
CELEBRATE the fact that we have done in mission together what no single church, ministry center or individual would do alone!
CELEBRATE the fact that our gifts have already helped to save hundreds, maybe thousands, of lives!
CELEBRATE our embrace of Jesus' words: "As often as you have done to the least of these, you have done unto me."
CELEBRATE our acceptance of tangible global responsibility in the name of Jesus, the Christ.
In April of this year our Executive Director, Phil Tom, received a mission and ministry challenge from Austin Chu, Manager of Global Cause Partnership, UNICEF USA. It called for the I.C.C.C. to become a contributing partner in the UNICEF effort to raise 1.3 million dollars to purchase lifesaving equipment to immediately aid Covid victims in India. Beyond immediate lifesaving aid the equipment would continue to benefit the seriously ill for years to come.
In May of this year our Board of Directors set a mission together goal of $13,400 to help purchase the equipment that would bring relief to and save lives of those suffering from Covid in India. Our Executive Director said, "During my three and a half years working with the I.C.C.C., we have never taken on a mission project of this scope."
I can certainly affirm what the Executive Director said and add that in my 18 plus years' experience with the I.C.C.C. we had never set, let alone met, a mission goal like our Board approved.
Our Executive Director and our Board are to be commended for considering and approving such a significant mission endeavor especially in the face of the continuing financial challenges that the I.C.C.C. is facing. Their action, backed by a $3000 contribution from our annual budget, challenged churches, ministry centers and individuals to look beyond self to the needs of others and contribute the other $10,400. In doing mission together the clarion call of Jesus to serve others is embraced and the life example of Jesus is emulated.
Our Executive Director noted, "I set this goal ($13,400) that would challenge our members to give, but not too high a goal that we would not reach."
I personally found the Executive Director's comment to be extremely optimistic. Past years have seen the I.C.C.C. set numerous mission goals with little or no success in bringing them to fruition as an example of doing mission together. In short, I was one of little faith based on my past experience.
I have certainly learned an important lesson. The past does not need to define our present or our future! Our mission together has proved this conclusively! Our Executive Director impressed the lesson on me. "I wanted our mission funding to succeed, and we did!"
YES, we did it! For the first time in many years, we met and surpassed the established goal by doing mission together. To date we have contributed $22,252 to support the caring, healing, lifesaving work of those ministering to Covid victims in India.
We have not seen the people that have been saved by our gifts.
However, we can be assured of the fact that there are children that still have moms and dads because in mission together we cared, and we gave!
CELEBRATE!
We can be assured that there are men and women that can still be called "mom" and "dad".
Their sons and daughters have survived the deadly virus because in mission together we cared, and we gave!
CELEBRATE!
We can rejoice and be glad because in mission together the equipment our dollars purchased will continue to save lives for years to come!
CELEBRATE!
Our Executive Director said of our accomplished mission together, "I expect that this successful campaign will give our I.C.C.C. family the confidence to take on another mission project." To that statement I add a heartfelt and enthusiastic "AMEN" along with the promise of my support. I hope and pray that the I.C.C.C. will join me in like emotion and support because in mission together we serve God, serve others and become what God, in Christ, wants us to be!
CELEBRATE!
Church at Litchfield Park,
Submitted by Louis Joy
A little history first. Litchfield Park is named after Mr. Paul Litchfield, a board member of the Goodyear Tire and Rubber Co. Mr. Litchfield, a deeply spirited gentleman, wanted a church that was interdenominational in the community. But other members of the board that stayed at the resort called the Wigwam wanted a bar, so after much discussion the church came into being and the Wigwam got the bar.
How does the Church at Litchfield Park serve the community? Not just Litchfield Park, but also Tollison, Avondale, Goodyear, Buckeye and the Air Base at Luke.
We sponsor the Boy Scout Troop #99.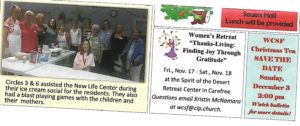 Open the facility to AA five times a week.
Host a Chronic Illness Support group.
T
he New Life Center, where batter and abused women and child are cared for.
The Annual Easter Egg Hunt for all children.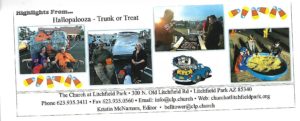 Of course, our Hallopalooza on October 31st, trunk or treat. Members dress up and open their car trunks with candy for a safe place for kids to enjoy. And Moms and Dads with food.
Each year the
church awards 3 scholarships to area students, 1 must be a member of the church; the other 2 are from the area high schools.
There are a couple of weekends during the Christmas season that members and young people volunteer to baby sit for a few hours so that mom and dad can get their Christmas shopping done.
Of course, the Thrift Shop which is open twice a month for all to come in and buy. Donated items from members and friends.
A Mother's Day luncheon open to all Mother's in the area.
Volunteers that help at Mission of Mercy- they provide free quality medical care to those in need.
Also, Homeward Bound- create pathways out of poverty for families ready to make a change.
The church partners with Luck AFB several times throughout the year. Just this last August volunteers provided meals for the families of deployed service members at the Luke AFB Chapel.
There is so much more but this gives some idea of what goes on throughout the year.
Submitted by Pastor Vicky Kirkman
"Worship, Witness, Work" has always been the mission of the Tennessee Valley Community Church and Center Family located in Florence, AL. Lovingly called TVCCC by our church family and the community.
We are blessed in that we are located, in the center of downtown Florence, Alabama. Serving the community is one of our main endeavors. Hunger is everywhere and affects more people in our community than one might expect. For more than ten years the Tennessee Valley Community Church and Center Family has hosted an annual winter food giveaway. The idea of feeding the hungry was initiated by church member, Mrs. Katie Anderson. The entire church family agreed that it was a fantastic idea! More than ten years later, the TVCCC Family hosts the annual food giveaway. Each family receives enough food to feed them from five to seven days. Items included in the giveaway are: Ground beef, chicken, salt pork, butter, can goods, cereal, snack cakes, soups/soup mixes, dried beans, peanut butter, jelly, bread, potatoes, fresh fruit, sugar, and kool-aid. Previously, paper products have also been given away. Often times, larger families are given even more food. The only stipulation is that each family receives only one food giveaway package per household. On Thursday and Friday, the week of the giveaway, foods are purchased and sorted into two large boxes per household. Cold foods are added on Saturday morning. As soon as all boxes are complete, the doors of the Tennessee Valley Community Church and Center basement are opened, and the giveaway begins! At past giveaways, as many as one hundred forty families have been served. February 2019 one hundred twenty-five families were served.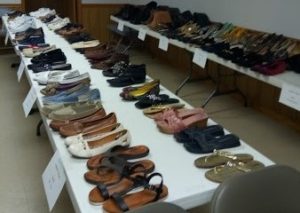 Several years ago, the TVCCC hosted a clothes giveaway for the community. After studying a Sunday School lesson on giving to others in need, church member Mrs. Vivian Poole, felt the need to re-establish the clothes giveaway. Again, the entire TVCCC Family agreed that it was a fantastic idea! Church members were asked to donate new and slightly used clothes for the clothes giveaway. Clothes and shoes were donated for all ages, infants and adults. Every classroom in the church fellowship hall was filled with clothes and shoes. In addition, there was a classroom for household goods. Held on Saturday morni
ng in January 2019. It was so successful that persons were allowe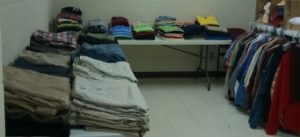 d, to return on the following Sunday, after worship service, to receive additional items. Because shopping for clothes can be tiring, shoppers were given a brown paper bag lunch to go. On the outside of the bag was a sticker, with the times of Worship Service and Bible Study at Tennessee Valley Community Church and Center.
Volunteers for both giveaways were adults and youth from the Tennessee Valley Community Church Family and the community. Both are rewarding experiences for all. Both endeavors are just two of the ways that we strive to ensure positive possibilities for our community at Tennessee Valley Community Church and Center under the leadership of Pastor Vicky Kirkman.
The folks at Peace Community Church, Fort Myers Beach, Florida strive to keep Christ and Community in focus as we gather each Sunday for worship. We participate in several community outreach projects throughout the year, such as collecting funds for the local food bank, providing volunteers for one of our area soup kitchens, and hosting a school supplies drive. During the Christmas Season we ring bells for The Salvation Army and host an Angel Tree that provides toys and clothing for children who are identified by one of the schools in the area.
Some of our outreach ministries bring us face to face with the people we are serving and one such project is called BRUSHED BY LOVE. BRUSHED BY LOVE involves identifying a homeowner who can't physically handle the task of painting their home and can't afford to pay a professional painter to do the job. We did this several years ago, then after a hiatus, decided last year to take it on again.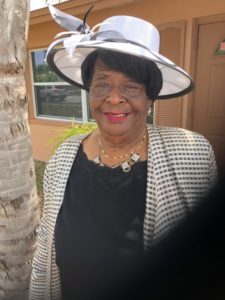 Last year we painted the home of a widowed senior citizen named Wilean. Pictured left, is Wilean standing in front of her house as volunteers from Peace Community Church finish painting the exterior. (She is dressed for church because she had a funeral to attend.)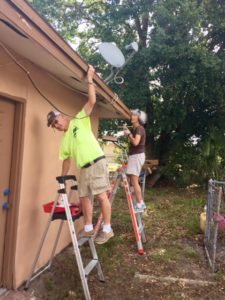 Pictured to the right are members of the Peace Community Church – Brushed by Love 2018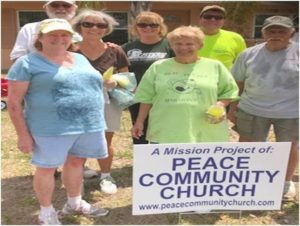 Above, most of the PCC Volunteers pose for a photo
This year, we are in the process of identifying a home and have tentatively planned another BRUSHED BY LOVE event for March 9. Our church family will buy the paint and supplies and provide volunteers to get the job done. Our Pastor Emeritus, Bruce Merton, will lead us in identifying the home for us.
We are a small church but we prefer to think about what we can do, not what we can't do, as we remember our reason for being – we exist to follow the commands of Jesus to love God, love our neighbor, and encourage others to do the same.
The 2017 Norris Area Good Neighbors Christmas Food Basket and Children's Toys Project
Norris Religious Fellowship, Norris, TN.
No one is quite sure how long Good Neighbors has been doing Christmas food baskets; we do know that Good Neighbors has been helping families in the Norris area in various ways for over 80 years. The 2017 Good Neighbors Christmas Food Basket and Toys Project is a great story about the community working together to accomplish something important, needed, and worthwhile.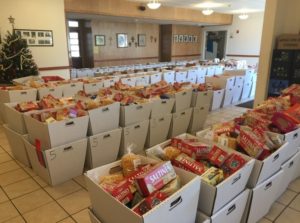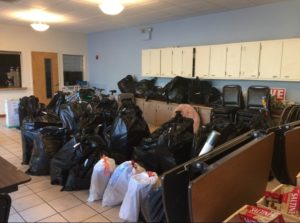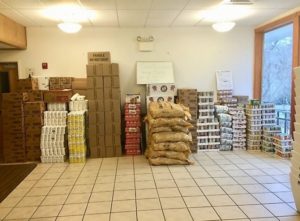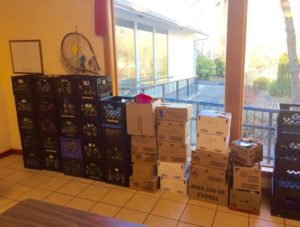 Good Neighbors provided food boxes to 111 families comprised of about 240 individuals (plus vouchers to ten seniors to choose their own food). Angel Tree gifts, coordinated by St. Joseph's Catholic Church, were given to around 89 children from 38 families.
The success of this year's project is due to the generosity of the churches, clubs, and individuals who donated funds and Angel Tree gifts; the area schools; and the many individuals from throughout the community who provided labor. A lot of labor is involved.
Again this year, the five area schools participated in several inspiring ways that taught good citizenship, helping others, and working together. The food drive involved the four schools of Andersonville Elementary, Fairview Elementary, Norris Elementary, and Norris Middle, which together collected around 123 milk crates-full of mostly canned goods. Half of these donations went toward filling the food baskets and the other half went to the Norris Food Pantry and the Community Action Commission of Anderson County for use in their food distribution programs.
Special recognition goes to the twenty-seven Seventh Grade students from Mrs. Horak's 1st Block Class from Norris Middle School who ably and enthusiastically helped fill the baskets. A big thanks to a delegation from Anderson County High School for doing the heavy work of delivering the baskets and surplus donations. And, appreciation is due to the Community Ecumenical Youth Group who helped with sorting and filling.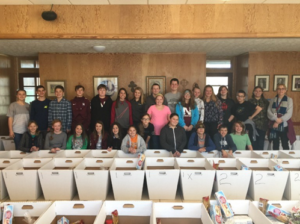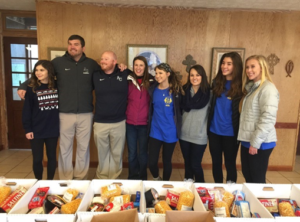 Besides donated food, the food baskets also contained items like pasta and peanut butter, purchased from the Second Harvest Food Bank of East Tennessee; and staples like flour and sugar, produce, and a ham purchased from Archers Food Center. Also, some toys and clothing had to be purchased to supplement the Angel Tree donations so-as-to round out each child's Christmas "wish list."
The Good Neighbors team gives a heartfelt and most sincere thanks to our financial contributors and to the many persons from throughout the community who helped in one way or another. You should feel great about your part in making this past Christmas a special time for families in need.
Best wishes for a healthy, happy, and prosperous 2018, from your friends at the Norris Area Good Neighbors Bob Gregory, Coordinator.
Good Neighbors is a joint ministry of the Norris Religious Fellowship and area churches, including the Angel Tree gifts coordinated by St. Joseph's Catholic Church. Tax deductible donations may be sent to Good Neighbors, c/o NRF, PO Box 267, Norris TN 37828. For information, call the church office at 865-494-7131. Sign-up for 2018 food baskets and toys is scheduled for Tuesday, October 16, 2018, 9 to noon, at the Fellowship Church.
Antioch Community Church in Kansas City, MO is blessed with people who not only care for but help those in need.
Their budget this last year was $16,500. $9600 was allocated to the 34 different organizations both in Kansas City and around the world, such as: Alzheimer's Assn., American Bible Society, American Leprosy Mission, Angel Flight Central, Camp Courage, Farmer's House, Collaboration Works, Pin Oaks/Jacobs Center (back snacks) Clay County Clothes Closet, Habitat for Humanity, Heart to Heart, Immacolata Manor (Life Unlimited), ICCC Conference, Northland Assistance Center, Northland Christmas Store, Parkville Women's Clinic, Pioneers (Janet Rowland in Thailand), Project Warmth, Urban Promise, UMCOR (fresh water for Haiti), and Vellore Christian Medical College.
Non-budgeted monies sent in 2017 were to ICCC Conference $6,000 for July of 2018, $5,000 to Ruth Applewhite for One Great Hour of Sharing, $2,000 for the Hurricane Relief to Heart to Heart, 7 van loads of supplies to UpLift, 20 New Coats to the Clothes closet, 20 new Baby Outfits and $200 in Change (baby bottles) to Parkville Women's Clinic, 450 food items to MLM, $610 to Edison School (Amanda Sage).
This last year the church awarded 18 scholarships to college students in the amount of $8700. These scholarships are awarded each year in December to college students that have completed one semester of college.
During 2017, Antioch provided 276 Back Snacks to the Jacobs Center that included 2 complete meals each. In November 10 Antioch volunteers took applications 3 days for the Northland Christmas Store. In December for 4 days, they had 12 people who helped set up the Christmas Store and worked in it each day. The Store served 650 Families under the poverty line in Clay County.
The Pastors Fund is not a designated budgeted fund but one that the congregation gives generously to all year long. It is depleted several times a year as they help families with utilities, rent, gas cards, bus tickets and food. In that fund this last year, we took in and spent $13,211.