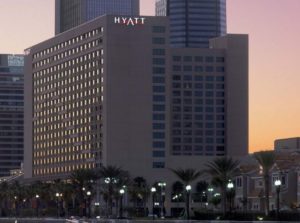 Hyatt Regency Jacksonville – Riverfront
225 E. Coastline Drive
Jacksonville, FL 32202

We are excited to have you join us for our
2019 International Council of Community Churches 69th Annual Conference
in Jacksonville, FL!
Monday, July 15 through Thursday, July 18, 2019

The Conference Committee, led by Jerry Brown, is hard at work planning a wonderful experience for 2019. Start to make your plans now. You won't want to miss this annual event!
To view a tentative abbreviated schedule of events,
click here.
2019 Annual Conference Planning Committee: Jerry Brown, Roberta Smith, Abraham Wright, Nick Brame, Karen Neely, Doris Marcisak, Connee Fitch-Blanks, Wayne Samuels, Marcus Tillery, Denise Wallace and Renee Holmes.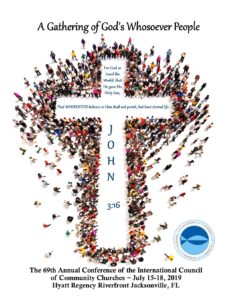 The 2019 Annual Conference offers 2 optional meal program opportunities: the Fellowship Luncheon and the Prayer Breakfast, hosted by the Samaritans. Details forthcoming.
NEW! Youth Annual Conference Scholarship
The ICCC will award a scholarship open to any Youth Annual Conference attendee (entering grade 7 through 12), which will pay for the registration fee and Fellowship Luncheon.
Pastors from any ICCC member church may submit to the Council Office their nomination for the award with a letter of recommendation introducing the candidate and explaining why they would like this person to receive the scholarship. For an application,

click here.
Nominations must be submitted for review no later than March 1 before the conference. They should be sent to the Council Office at 21116 Washington Pkwy, Frankfort, IL 60423, attn: Youth Scholarship. The decision will be announced in the April/May issue of the Christian Community.
Click here
to view the 2018 Youth activities. If you would like to make a contribution to the Youth Program Stipend Fund, designate your contribution here through out
website,
or send a check to the council office with a note of designation.