The 73rd Annual Conference of the International Council of Community Churches will be held at the
Embassy Suites Charlotte
4800 S. Tryon St., Charlotte, NC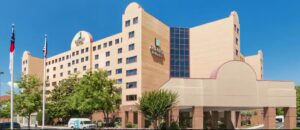 Tuesday July 18 – Friday July 21, 2023
2023Annual Confer
ence Planning Committee:
Jerry Brown, Roberta Smith, Abraham Wright, Nick Brame, Bob Harris, Bruce Merton, Rhonda B
levins, Saundra Nelson, Bruce Jones and Winessa Crutchfield.

Things to do

,

places to eat, events taking place, getting here, getting around, and much more all in Charlotte.

Information about their "Show your Badge" program, which provides your attendees attraction, dining, nightlife, and retail exclusive offers and discounts throughout the city.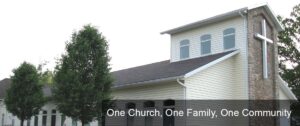 THANK YOU to a 2023 Annual Conference Sponsor
People's Community Church
located in Berea, OH.
We appreciate you!
2023 Annual Conference Key Note Speaker

THE REV. DR. CLIFFORD A. JONES
"We Are Family"
The Word Proclaimed by Rev. Dr. Clifford A. Jones
Recognized as one of the outstanding Black pastors/preachers in Charlotte, North Carolina and America, The Rev. Dr. Clifford A. Jones, Sr. will proclaim our conference theme, "We Are Family," rooted in the Word of God as found in I Corinthians 12. Dr. Jones will deliver sermons on the opening day of the conference and on Thursday. On Wednesday and Friday Dr. Jones will be with us for a one hour "Q, A and Comment" session. The "Q, A and Comment" time will allow conferees to enter into extended discussion and interchange with Dr. Jones.
Dr. Jones has been the Senior Pastor of Friendship Missionary Baptist Church in Charlotte for 40 years. Born in Philadelphia and reared in New Jersey, Dr. Jones received his Bachelor of Science degree from Maryland State College; the Master of Divinity and Master of Theology degrees from Southeastern Baptist Theological Seminary; and the Doctor of Ministry degree from the Boston School of Theology. As part of his outstanding ministry, he has done further study at Regents Park College in Oxford, England and the Baptist Theological Seminary in Ruschlikon, Switzerland.
In addition to his outstanding ability to explain and deliver God's Word, Dr. Jones has a great and compelling compassion for the needs of others, locally and globally. Dr. Jones led a delegation to form a solid and working partnership with the Winterveldt School in Mabopane, South Africa. The partnership led to the purchase and building of a fully equipped Christian education center for grades K – 12. In addition, a farm was purchased, three greenhouses were built to provide vegetables for sale, and a brick making machine was acquired so that homes and business buildings could be built while also providing a means for economic interdependence.
In response to children and families struggling with severe poverty, Dr. Jones has organized and led numerous medical and religious mission teams to provide needed healthcare, medical supplies and educational training in Jamaica, Africa and Guyana, South America.
In addition to his many global interests and concerns, Dr. Jones is a dedicated supporter of senior citizen programs. His leadership led Friendship Church to open the first satellite center for the Charlotte-Mecklenburg Senior Centers, offering exercise and other classes for seniors living in the area where the church is located. He serves of the Board of Directors for the Charlotte-Mecklenburg Housing Partnership, Inc.
Dr. Jones holds or has held many leadership positions including being a trustee for Morris College and Hood Theological Seminary, Vice President of the Baptist World Alliance and President of the General Baptist State Convention of North Carolina, Inc.
The Friendship Missionary Baptist Church has been blessed by God and the exercise of Dr. Jones' gifts and talents with a 115 acre campus. In addition to the church and its facilities, this land is being developed to provided intergenerational daycare, assisted living for seniors, an Alzheimer's center, a hospice house, single family dwellings, offices, a park shelter and amphitheater.
Among the many, many awards and recognitions he has received are "Senior Father of the Year, Black Fathers Rock," The Nelson Mandela Award from the National Baptist Convention in the USA, keynote for the 2007 National Political Black Caucus Prayer Breakfast, the Duke Divinity School – Gardner C. Taylor Lecturer, and the "Beautiful Are the Feet Award," at the Samuel DeWitt Proctor Conference.
Published works include "The Star book of Stewardship," "Becoming and Practicing What It Means to Be a Christian," "Consuming Passion: Christianity and the Consumer Culture," and "From Proclamation to Practice: A Unique African American Approach to Stewardship."
Dr. Jones is married to the former Carolyn Brenda Reynolds. They are the proud parents of Mrs. E. Renee Darity, Rev. Michelle A. Jones, Pastor Anthony Jones, Jr, (Courtney) and Miss Alexa Mariah Fortune Jones. Dr. and Mrs. Jones have one adored granddaughter, Miss Michelle A. Jones (Jr.).
Our conference, in general, and you, specifically, will be richly blessed as we listen to and absorb the proclamation and insights that Dr. Jones will bring to us.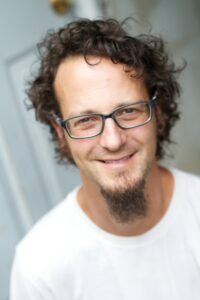 We are excited to announce the 2023 Annual Conference Bible Study Leader, Shane Claiborne!
Shane Claiborne is a prominent speaker, activist, and best-selling author. Shane worked with Mother Teresa in Calcutta, and founded The Simple Way in Philadelphia. He heads up Red Letter Christians, a movement of folks who are committed to living "as if Jesus meant the things he said." Shane is a champion for grace which has led him to jail advocating for the homeless, and to places like Iraq and Afghanistan to stand against war. Now grace fuels his passion to end the death penalty and help stop gun violence.
Shane's books include Jesus for President, Red Letter Revolution, Common Prayer, Follow Me to Freedom, Jesus, Bombs and Ice Cream, Becoming the Answer to Our Prayers, Executing Grace, his classic The Irresistible Revolution, Beating Guns, and his newest book, Rethinking Life (released Feb 2023). He has been featured in a number of films including "Another World Is Possible" and "Ordinary Radicals." His books have been translated into more than a dozen languages. Shane speaks over one hundred times a year, nationally and internationally. His work has appeared in Esquire, SPIN, Christianity Today, TIME, and The Wall Street Journal, and he has been on everything from Fox News and Al Jazeera to CNN and NPR. He's given academic lectures at Harvard, Princeton, Liberty, Duke, and Notre Dame.
Shane speaks regularly at denominational gatherings, festivals, and conferences around the globe.
We are excited to have three denominational officials who will bring greetings at the
Fellowship Luncheon on Tuesday of Annual Conference, July 18:
The Rev. Dr. Amy Coles, Assistant to Bishop Ken Carter, the Charlotte Area, Western NC Conference, the United Methodist Church
The Rev. Dr. Alice Ridgill, Associate General Presbyter, Presbytery of Charlotte, Presbyterian Church (USA)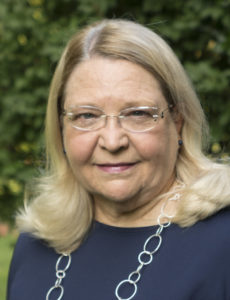 The Rev. Cheri Dennis, Pastor, Holy Covenant UCC, Charlotte, representing the United Church
Annual Conference Workshops
The 2023 Annual Conference has a stimulating line-up of workshops being offered in Charlotte.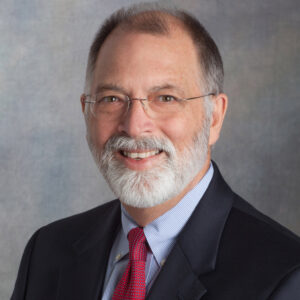 "Praying for Dear Life" By Dr. Thomas R. Steagald
Once, twice, thrice or seven times a day, O God, I lift up my voice to you who answers prayers." In this session, we will talk about how the daily office of prayer may provide spiritual focus, theological grounding, biblical imagination and serenity of spirit. An integration of hand and heart, private devotion and corporate worship, along with unity in the Body of Christ begins with a grateful, prayerful response to God's lavish grace.
Dr. Thomas R. Steagald recently retired after a decade as Senior Pastor of Charlotte's Hawthorne Lane United Methodist Church and is the author of six books. His reviews, exegesis and essays have appeared in the Abingdon Preaching Journal (contributor for eleven years), The Christian Century, Circuit Rider, Lectionary Homiletics, Ministry Matters, Preaching, United Methodist Reporter, and Upper Room Disciplines. He is a former adjunct professor of preaching, worship, ministry and evangelism at Hood Theological Seminary and holds degrees from Belmont University, Southern Baptist Theological Seminary, and the Candler School of Theology.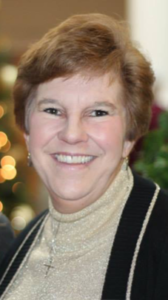 "The God Who Grieves with Us: Leading People Through Grief and Lament" by the Rev. Deana Nail
Grief and broken hearts abound. We all know someone who is grieving, and many times we feel helpless to ease their pain. "The God Who Grieves with Us" will engage participants in 1) an explanation of lament; 2) an understanding of the faith struggle grief can ignite; and 3) a look at the ways we love and serve people who grieve.
The Rev. Deana Nail lives to help people fall in love with Jesus. Deana currently serves as Dean of Students and Master of Divinity (MDiv) Program Director at Gordon-Conwell Theological Seminary Charlotte. She is also founder of Mission 12:11, a Bible-teaching and spiritual formation consulting ministry. Deana is an ordained pastor and has served at several churches in the Charlotte area, including Forest Hill Church and Briar Creek Road Baptist Church, a multi-racial, multi-cultural church. Deana earned her Master of Divinity degree at Gordon-Conwell Theological Seminary and is pursuing a Doctor of Ministry degree in Pastoral Theology in Practice.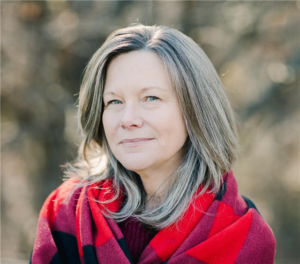 "Helping Anxious Children Thrive: What Parents and Churches Can Do" by Dr. Pamela Davis
The pandemic, school shootings, and a deeply divided nation are all taking a toll with worried adults and worried children. This workshop will highlight key reasons that children experience heightened levels of anxiety and will provide coping strategies for parents and caregivers. It will specifically explore ways to build resilience in stressed, anxious, and worried children (and yes, many of the strategies for anxious children can be applied to anxious teens and adults).
Dr. Pamela Davis is Associate Professor of Counseling and Director of Graduate Programs in Counseling at Gordon-Conwell Theological Seminary Charlotte. She served for twenty-two years as a missionary in China and Thailand before returning to the United States to teach, first at Wheaton College in Illinois, and since 2017, at Gordon-Conwell in Charlotte. She has also trained counselors in the last few years in both Turkey and the Philippines. Pam received her MA at Wheaton University and her Ph.D. at Regent University, and is a sought-after speaker across the U.S. and internationally on topics involving member care and counseling for children and families.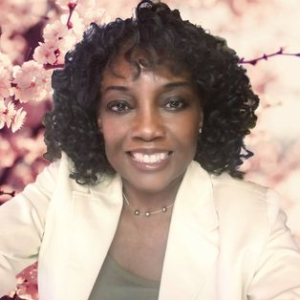 Racial Equity and Its Impact on Mental Health in Underserved Communities is a workshop that hopes as faith-based communities we can help close the gap by providing support, information and spiritual leadership for the underserved communities most impacted. Dr. Linda Abington returns this year to continue her passion for racial equity.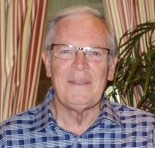 The Lord's POWER Prayer is a 2 session workshop will focus on using the Lord's Prayer as a model for the development of a meaningful and powerful discipline pf prayer.
East Meets West: Contemplative Coloring is a 2 session workshop with a hands-on activity. The focus in session one is the use of two Western spiritual disciplines. The first, known as Lectio Divina, will focus on purposively reading and coloring Scripture using the Eastern faith tradition of mandalas. The second, intercessory prayer, will encourage meaningful prayer on behalf of others and then the prayer(s) will be transformed into madala art. Each session stands independently.
Resourcing Worship in the Liturgical Church is a time where you can come, receive and share information about high quality resources that are available to aid your church in dynamic and meaningful worship and preaching within the liturgical tradition.
Using Social Media and Video in Worship is a workshop where you will be introduced to the various ways in which social media and video resources can be used to enrich and strengthen your church's worship experience.
Worship at Home is a workshop where you can join others as we explore some of the ways that you can make your home an inviting, inspiring and exciting place of worship.
Resourcing the Advent-Christmas Season and Resourcing the Lent-Easter Season are 2 workshops that will allow you to receive and share hints and helps for developing dynamic and meaningful worship for these special seasons of the year. Bring your ideas and suggestions.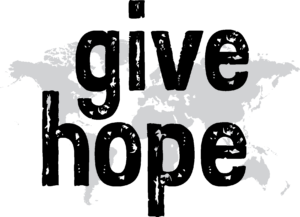 Give Hope Global will present a workshop about the Christian organization's life changing efforts for more than a decade to provide nutritional meals, educational supplies and schooling to impoverished Haitian Children.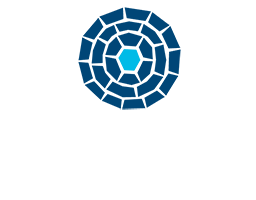 World Neighbors is working in 6 nations offering agricultural support, human development and drought mitigation and will share how they use our donations in this informative workshop.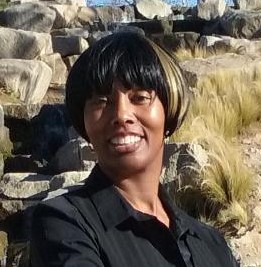 Nooma Sessions
What is in a Name? Shakespeare once asked, "What is in a Name?" Rob Bell wrestles with this same question in his short film "Name." We to will dive into the value and uniqueness found in a "name," your name.
Navigating Difficult Seasons Life is replete with challenges. Health issues. Grief. Relationship problems. Career complications. Middle age. Family, friends, and community struggles. Do are trials have purpose? Storms of life are guaranteed so, how can we navigate them? Let's explore how to Navigate Difficult Seasons.
Building Healthy Families
Distractions. Growing pains. Changing seasons. Traumatic events. Violence. The Internet. Pandemics & depression. All of these things and more impact the wholeness and vitality of the family. How can the family work together to build a strong unit able to deal with these present day issues?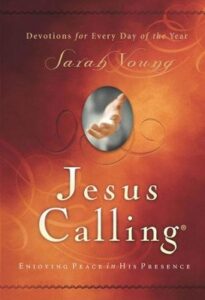 Jesus Calling
Rev. John Hardman-Zimmerman, ICCC Samaritan President will hold a book study at the 2023 Annual Conference.
Jesus is calling you to a deeper intimacy with him. Do you sense his invitation, his longing? Do you long to hear from him, to experience the risen Christ in your daily life? Jesus Calling, by Sarah Young, has helped numerous people do so and can help you do so too.
Jesus Calling is a devotional resource meant to nurture our relationship with the risen Jesus and heighten our awareness of the presence of the living Christ in our day-to day living. In this workshop we will use Jesus Calling as a means of entering into the classical spiritual practices of sacred reading, meditation, prayer and contemplation that reveal the reality of God in our lives.
I hope you hear Jesus calling you to this session, there to be addressed by the living Christ.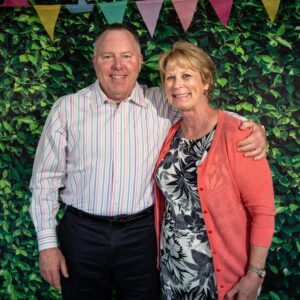 Meet Beth Nolan, the 2023 Children's Program Leader!
We are excited to announce Mrs. Beth Nolan will be leading the Children's Program in Charlotte!
Mrs. Elizabeth (Beth) Nolan is a full time substitute teacher and is
looking forward to meeting the ICCC and working with the children.
She attended Chestnut Hill College in Philadelphia, PA and has
a Bachelor of Science in Education and is the former Director of Children's Ministries at St. John's UMC in Santa Fe, NM.
She is a Community Bible Study Group Leader and a
member of Imagine Church of the Carolinas.
She is m

arried to Pat Nolan (43yrs), Mom to 1 daughter and 2 sons, and Nana to 12 grandchildren. WOW!
She relocated to South Carolina 4 years ago and e
njoys camping, hiking, baking, reading, gardening and travelling.
Beth loves the conference theme and is excited to lead the children through it.
Several Mission-themed Programs Planned for 2023 Annual Conference
This year's new Mission Track will feature at least one mission-related event every day of the conference.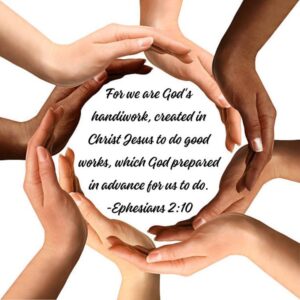 The past few months, the ICCC Hunger Relief Missions Committee has been working with Christina Jones of the conference's Charlotte-based host church, Imagine Church, to identify local mission organizations that will be featured at the conference.
This is your opportunity to not only learn about how local Christian-based charitable organizations are helping change lives of the homeless and needy for the better, but to also provide vitally important hands-on assistance.
Tuesday July 18th:
Mission Workshop (2 – 3 p.m.): Colin Pinkney, the Visionary & Executive Director of the Harvest Center of Charlotte, NC will give a multi-media presentation on the help that the center provides to the homeless in Greater Charlotte. Mr. Pinkney is a community leader with 25 years of experience helping the poorest and most vulnerable citizens.
Under Mr. Pinkney's vision, the Harvest Center provides Christian care including furnished apartments to non-chronic homeless men, women and families. He will explain how his organization works with area strategic partners to provide holistic services and resources to break the cycle of homelessness in Charlotte.
Mr. Pinkney's informative presentation will be followed by a 10 to 15 minute Q&A session.
Wednesday July 19th:
Youth Offsite Hands-on Mission Event (11 a.m. to 3 p.m.): Conference Youth Leader Mike Mahan and an adult female assistant from Imagine Church will escort Conference youth attendees to a thrift shop run by the Tender Hearts Ministries.
The youth will help sort donated items at one of Tender Heart's thrift stores (think Goodwill Industries) that will be either sold to area residents or given to homeless mothers with children staying at a Tender Hearts' facility known as The House of Hope. This is a shelter that the 15-year-old faith-based charitable organization provides along with job training for homeless women while also helping them care for their children.
The conference is providing a complimentary 12-seat van and driver to take the youth to and from the thrift shop. Youth will have an opportunity to each order a free boxed lunch that they will eat enroute to the thrift shop. Each participating youth will need a parent-signed permission slip for this event.
Participating youths will receive special ICCC Community Service Certificates.
Mission Lunch (Noon to 1 p.m.): Local Charlotte charity, Give Hope Global, will be providing a very special speaker—Ms. Enise Gideon– during the Mission Luncheon. She was one of the severely disadvantaged youths in Haiti for whom Give Hope Global helped provide an education 12 years ago. That was after the catastrophic Haitian earthquake in 2010. Ms. Gideon is now on the Dean's List at Wingate University and speaks three languages. She will share her inspirational story made possible by Give Hope Global.
Mission Workshop (1 to 2 p.m.): Melissa Woeffler, the Executive Administrator of Give Hope Global, will present a workshop about that Christian organization's life-changing efforts for more than a decade to provide nutritional meals, educational supplies and schooling to impoverished Haitian children. The organization more recently is helping desperately poor children in Ghana, Africa receive an education.
This will be a highly informative multimedia presentation. Afterwards, attendees will have an opportunity to ask questions about Give Hope Global's activities to rescue children from poverty and help them attain successful, productive lives.
Thursday July 20th:
Women's Christian Fellowship Mission Workshop (11 – 12 noon): WCF is sponsoring a workshop featuring a local charity that WCF is encouraging conference attendees to help support. Adult conference attendees regardless of gender are encouraged to come. Conference attendees will have an opportunity to provide gift cards to the WCF-sponsored charity. More details will be provided in the next issue of The Christian Community.
Friday July 21st:
Onsite Multi-generational Hands-on Event (Set up—1 to 2:30 p.m.; Backpack stuffing: 2:30 to 4 p.m.): Recently deceased Hunger Relief Missions Committee member Tom Friedberg helped pioneer a highly successful hands-on project at last year's Annual Conference. It involved stuffing school supplies into 300 backpacks for school age children in collaboration with the Boys & Girls Clubs of Central Ohio.
This year we are following Tom's model by working with Give Hope Global to stuff 300 backpacks with school supplies for desperately poor Haitian children. Melissa Woeffler, Executive Administrator of Give Help Global, will help lead this hands-on activity. The 1 ½ to 2-hour event will be held in the ICCC Missions Room on the first floor of the Embassy Suites Hotel.
We will need approximately 40 volunteers in all age groups to stuff the backpacks from 2:30 to 4:30 p.m. and to write hand-written notes of encouragement to be inserted into each backpack.
From 1 p.m. to 2:30 p.m. we will need 10 to 15 volunteers to unpack thousands of individual school supplies (pencils, rulers, crayons, etc.) from boxes, some of which are hefty. The individual supplies will then need to be organized in like groups on long tables to facilitate the backpack stuffing.
The actual stuffing of the backpacks involves NO heavy lifting. Participants will receive special ICCC Community Service Certificates.
Give Hope Global will ensure that the stuffed backpacks are shipped to Haiti where they will be given to needy children so that they can have a much greater chance of succeeding in school. Give Hope Global has been providing critically-needed help to Haitian school children for more than a decade.
Nomination Recommendations are needed!
Under the ICCC Bylaws, the Board of Directors acts as the Nominating Committee for the Council. Terms of office begin at the close of the Annual Conference. If you have suggestions for nominees or if you wish to be considered as a nominee for an office, please respond no later than J. Nominations will be presented to the Annual conference business session, at which time additional nominations from the floor are in order. The available positions are:

Board of Directors – Class of 2026:
Vice President for Financial Development – Serves one term for three years.
Vice President for Membership Services* – Serves one term for three years.
Vice President for Ecumenical and Interfaith Relations* – Serves one term for three years.
Vice President for Informational Services and Outreach* –
Serves one term for three years.
Board of Trustees – Class of 2026:
Eastern Zone, Region A*, includes states MA, CT, NJ, NY City and Long Island, NY – Serves one term for three years.
Eastern Zone, Region B, includes states VA, DE, Washington DC, MD – Serves one term for three years.
Central Zone, Region A*, includes states IL, IA, IN, WI, MN, MO, OK – Serves one term for three years.
Central Zone, Region C, includes states TN, KY, LA, AR, AL – Serves one term for three years.
* the current leadership for this position is eligible for re-election.

Your Input is vital:
When recommending an individual for service in any of the above positions, please be sure that the individual is willing to serve. Descriptions of all ICCC leadership positions can be found at https://www.icccnow.org/constitution-bylaws/. Then, inform the nominating committee of the name of the individual, their contact information and the position for which you are recommending them. Please include with your recommendation, a brief profile of the individual, including the name of the church or ministry center in which the person holds membership, activities with that congregation, and activities with the ICCC. Please send this information to both ICCCNOW@sbcglobal.net and cs83nick@aol.com.
Conference Youth Scholarship
If you know a teen who would like to attend the conference in Charlotte, but needs some financial assistance, we have a plan. We have scholarship assistance available to pay for the registration fee of a Youth attendee. To apply for the scholarship, the following procedure will be used:
1) The scholarship is open to any Youth attendee (entering grade 7 through 12) and covers the regular registration fee and Fellowship Luncheon.
2) Pastors from any member church may submit their confidential nomination for the award with a letter of recommendation introducing the candidate and explaining why they would like this person to receive the scholarship.
3) Nominations must be submitted for review no later than April 30, 2023. They should be sent to the Council Office at PO Box 846, Longmont, CO 80502, attn: Youth Scholarship. Or email to ICCCNOW@sbcg

lobal.net
4) The submissions wi

ll be revie

wed and presented to the ICCC Board of Directors for approval.
5) The ICCC President will communicate the board's decision to the recommending pastor to notify the recipient. The decision will also be announced in the June issue of the Christian Community. The winning recipient would be notified soon after the April 30th deadline.
APPLY TODAY!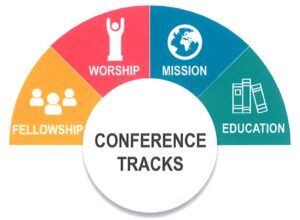 CHOOSING THE RIGHT "TRACK" FOR A GREAT CONFERENCE EXPERIENCE
Reported by Dr. Bruce Merton
Last year my wife, Jill, and I were joined by four other members of our church family on a trip to Switzerland. It was an excellent experience and thoroughly enjoyed by all that went. During the trip I was reminded of the fact that while all of us had a great time in the same place, during the same time frame, and sharing some of the same experiences, the trip was really unique for each of us!
This was driven home by our trip from Zermatt to St. Moritz. We gathered at the Zermatt train station where we observed four different trains. We were boarding the Glacier Express for an 8 hour trip to St. Moritz. I was surprised to learn that the other three trains were also going to St. Moritz, but they were taking different tracks to get to the same destination.
The uniqueness of our trip for each person was in the fact that we were each afforded many opportunities to do things and have experiences that were geared to our own interests, inclinations and tastes. We all went to the common destination of Switzerland, but we each traveled a different "TRACK" and that contributed to our individual and shared joy.
This is being written to introduce all conference attendees to the fact that our conference structure is receiving significant change this year and for the future. Like the Switzerland adventure previously mentioned, we will all share a common conference experience. The conference will be held for all at the Embassy Suites Hotel on Tryon Street in Charlotte, North Carolina. We will all experience conference during a common time frame – Tuesday, July 18 to Friday, July 21. We will all share in the worship services of Tuesday and Thursday. We will all experience the Bible Studies, but each person present will get to put their own unique stamp on the conference experience by following an interest oriented TRACK that will allow you to mold and shape your conference experience based on your interests, inclinations and tastes. Conferees will be able to choose a TRACK that will enable them to focus on FELLOWSHIP, WORSHIP, MISSION or EDUCATION.
Each conferee will be asked to choose a TRACK focused on your primary interest to be followed during the conference. PLEASE NOTE: You are welcome to attend offerings in other tracks based on appeal, interest or need.
If you particularly enjoy the FELLOWSHIP experience of conference, you will choose that TRACK and, in addition to the commonly shared worship, Bible study and meals, you will partake in fellowship building activities and workshops.
If you come to conference with a particular interest in EDUCATION, you will choose the EDUCATION TRACK and find yourself immersed in activities like a book study and discussion, conversation with the Bible study leader, and workshops that educate you on a variety of topics.
Do you come to conference with mission on your mind and heart? You will enjoy and enhance your conference experience by following the MISSION TRACK. This TRACK will allow you to experience "hands on" mission opportunities along with workshops and presentations from and about our ICCC mission partner.
Is the experience of worship a driving force for your conference attendance? Follow the WORSHIP TRACK for experiences such as "Keynote Conversations" with our worship preacher, Dr. Clifford Jones; worship through music and workshops about improving, planning and doing worship in your church setting.
The new structure is a product of a mandate from the Board of Directors to "Reform, Reframe and Re-Vision" the conference experience. The structure is evolving and, as with everything new and different, there will be "growing pains," imperfections, needs for "tweaking" and ongoing revisions. Please be patient as the new structure takes its shape and form. Your constructive criticisms and suggestions will be welcomed, considered, and, if appropriate, implemented.
Let's gather together in Charlotte for a great conference that will show "We Are Family "even though we experience family from our own unique perspective and spirit. Register February 1st and choose the TRACK that is best for you!