The 2020 International Council of Community Churches 70th Annual Conference has been canceled.

A 2-day Virtual Gathering will take place July 20 & 21, 2020.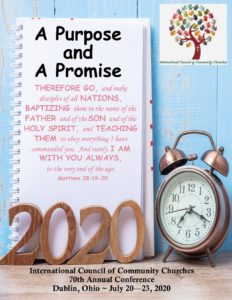 Monday, July 20 and Tuesday July 21, 2020
ICCC 2-Day Virtual Gathering
MONDAY, JULY 20

Preaching: Rev. Elizabeth Hagan,
Palisades Community Church, Washington, DC
Workshop – "Seeing Christianity from the Outside"

Get the Replay


led by Rev. Bruce Jones
Break

– resume virtually in 1 hour

Shoutouts
Get the Replay
His Eye on the Sparrow
Get the Replay
Bible Study – Rev. Dr. John W. Kinney

Get the Replay
Workshop – "Day of Service: Evangelism in the Community Church"

Get the Replay


led by Rev. Ken Nelson and Mr. Nick Brame

TUESDAY, JULY 21
12:00pm* Workshop – "Chaplaincy During Times Like These"

Get the Replay


led by Rev. Dr. Sharyon Cosey
Workshop -"The ICCC: Where We Have Been. Where Are We Going?"

Get the Replay


led by
Rev. Bob Fread and Rev. Phil Tom
Break

– resume virtually in 1 hour
2020 Annual Conference Planning Committee: Jerry Brown, Roberta Smith, Abraham Wright, Nick Brame, Karen Neely, Doris Marcisak, Connee Fitch-Blanks, Wayne Samuels, Marcus Tillery, Bob Harris and Linda Hopkins.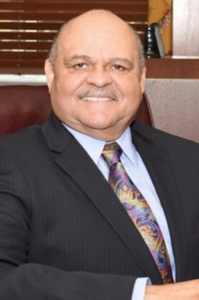 Meet the 2020 Annual Conference Bible Study Leader,
Dr. John W. Kinney!


We are pleased and excited to have Dr. John W. Kinney, Professor of Theology and Director at the Center for African American Pentecostalism and Leadership Development, to be our Bible Study Lecturer at the 2020 2-Day Virtual Gathering!
Dr. John W. Kinney, has devoted himself to the pursuit of excellence in theological training and ministerial preparation and has distinguished himself as a systematic theologian, academician and administrator in a career that spans over 35 years. He has also shared in instruction at Chicago Theology Seminary, Randolph Macon College, Union Theological Seminary, and the College of William and Mary.
Dr. Kinney has lectured extensively across the breadth of this nation and in Africa. He has been a featured lecturer at numerous Universities including: Yale, Duke, Michigan State, Howard, Southern Methodist, Virginia Commonwealth, and the University of Richmond. He has also presented at numerous theological schools including: Iliff School of Theology, Bangor Theological Seminary, Shaw Divinity School, Hood Theological Seminary, The Baptist Theological Seminary, McCormick Theological Seminary, Union Theological Seminary, and many others. He is recognized for his theological constructions addressing the designed harmony in creation and the subsequent fragmentation and separation with particular attention to racism, sexism and materialism. His thoughts are included in several publications and crystallized in Baptists against Racism in an article entitled The Theology of Fallenness: The Roots of Racism.
Dr. Kinney has served as a consultant to the American Baptist Convention, the Progressive National Baptist Convention, the Baptist General Convention of Virginia and both the United States Air Force, Army and Navy Chaplain Corps. He has been a member of the American Society of Church History, the American Academy of Religion and the Society for the Study of Black Religion. Dr. Kinney chaired the committee on Race and Ethnicity from 1998 to 2000. He served as a member on the Commission on Accrediting for the Association of Theological Schools in the United States and Canada from 2000 to 2006 and actively continued as Commission Chair (2004-2006), Vice President (2006-2008), President (2008-2010) and Personnel Committee Chair (2010-2012).
Dr. Kinney comes to us with a BA from Marshall University, a M.Div from Virginia Union University, a M.Phil. from Columbia University and a Ph.D. from Columbia Univ/Union Theological Seminary.
His service to academia is complimented by his service to the parish. Dr. Kinney has served as the pastor of the Ebenezer Baptist Church in Beaverdam, Virginia for more than 35 years.
We welcome Dr. Kinney and look forward to his inspiration and direction as a leader.
2020 2-Day virtual Gathering Workshops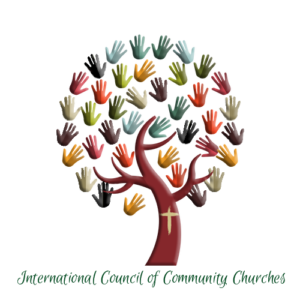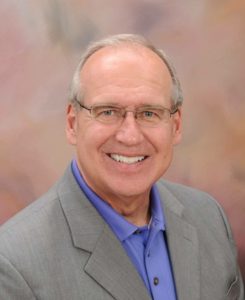 "Seeing Christianity from the Outside" led by Pastor Bruce Jones
Just exactly what do people in today's culture think about Christians and Christianity? The Barna research group has found that many of those outside of Christianity, especially younger adults, think that Christians no longer represent what Jesus had in mind, and that Christianity in our society is not what it was meant to be. This workshop is designed to be a mirror for us to see ourselves and our faith more clearly. It may prove to be a wake-up call to today's church leaders as we accept the challenge of becoming the kind of Christ followers, friends, and neighbors who are full of grace, love, and compassion, in order that the church will be known more by what it is for than what it is against. The goal of the workshop is not only to see ourselves from the outside, but to do something about it, so that the face of Christianity in today's culture will be changed!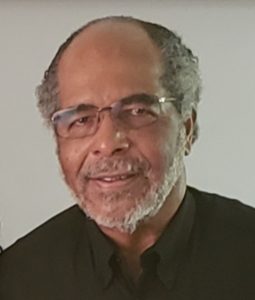 "Day of Service: Evangelism in the Community Church." led by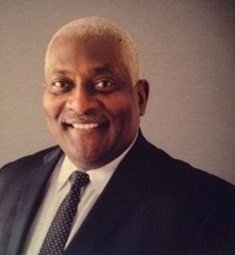 Rev. Ken Nelson and Nick Brame
This workshop will be a sharing opportunity that describes how one congregation approached service and evangelism to attract new members and new service opportunities by expanding a traditional church event. Workshop participants will be invited to share their like experiences.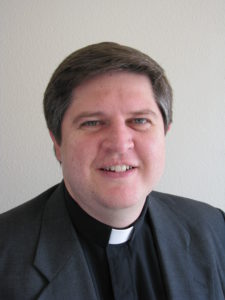 The ICCC: Where We Have Been? Where Are We Going?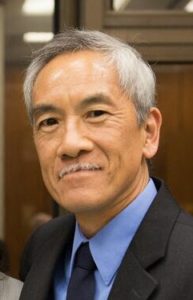 Important to any journey is to know where one has already been so one can plan where to go. As the ICCC celebrates its 70th anniversary and the organized Community Church Movement nears the century mark, we will look back to where the Community churches journey has taken us together and what this means for opportunities in our ICCC future. What does it mean to be a council? Are we an organization? A church? A denomination? A fellowship? A communion? Over the decades how has the ICCC related to and supported our churches and individuals, and in return how have they supported our Council's common work? What have been our strengths and weaknesses at various times in our history? Moving forward in an era of downward and aging membership and decreasing finances for religious bodies, how does the ICCC meet the challenge of sustaining the community church movement locally as our society becomes more secularized and fewer people are willing to engage with institutional religion? What challenging questions do we need to ask about the ICCC's future?
Leaders will be Rev. Phil Tom, our current ICCC Executive Director, and Rev. Bob Fread, life-long ICCC member and student of Community Churches Movement history.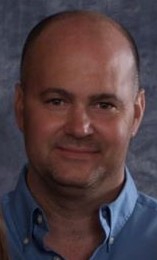 Hello youth/youth parents/youth grandparents, etc.!


I'm Clint Cook, the volunteer to help lead the Youth (entering grades 6 through 12 in the fall) at this year's ICCC annual conference in Dublin, OH. My wife Antoinette will provide assistance. We both attend Antioch Community Church, in Kansas City, MO.
I have been a scout leader for the last ten years and want to revisit the leadership organization of the ICCC youth program. In the past few years they have been adult-led; I would like to see them be more youth-led. What this means is that the kids will have more input on their worship service and their activities.
To achieve this, I would like everyone to talk to their youth and not only encourage them to attend the conference this year, but also provide input for their program. Please have them register as early as possible and I can e-mail them to get them involved in the planning process.
I plan on suggesting different ideas and activities for the youth to discuss, via e-mail or Zoom, and decide what they want to do. If any youth finds something, via internet, that they think would be fun they're welcome to add to the discussion.
I also would like them to start planning their worship service a couple of months before conference so that there will be less classroom time and give them more time for other activities.
By allowing our youth be the leaders, I hope they will learn about leadership, planning and organization, and responsibility yet still have fun while they are learning. They are the next leaders of our Council and our churches, and need to be planning for adulthood.
Any questions or comments please feel free to contact me at clintcook17@yahoo.com. Thank you for your encouragement and support.
Intergenerational Meal Packaging Event
Scheduled at Annual Conference Hotel, july 2021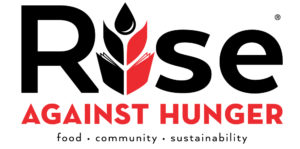 For the first time ever, the upcoming Annual Conference is hosting a community service project for all attendees as part of the regular conference agenda. This is something that the ICCC has wanted to do for several years, because it encourages participation and team-building, and helps others in need.
Sponsored by the ICCC Hunger Relief Mission Committee, and in conjunction with an organization called "Rise Against Hunger", conference attendees will package more than 10,000 meals for food-challenged Third World families in only 2 hours' time. What's more, attendees can do this during normal conference hours without having to leave the conference hotel.
Rise Against Hunger has helped volunteer organizations package more than 500 million meals for food-challenged people in 77 countries since its founding in 2005. ICCC member church, The Chapel By The Sea which is located in Clearwater Beach, FL, has sponsored Rise Against Hunger (RAH) meal packaging events for the past 5 years with considerable success.
The meal packaging involves putting rice and other nutrients into single-meal plastic bags for bulk shipment overseas. The process involves no heavy lifting and can be done in street clothes whil

e seated

or standing. It can be easily accomplished by volunteers from 6 to 90-plus years of age.
RAH provides all the food and supplies needed for the project. A RAH representative will be on site to help guide us through the process at every step.
Volunteers Needed Who Want to Make a Difference
WHO: We need volunteers of all ages to package the meals. Depending on the number of volunteers we get, you will spend one or two hours of time to help feed impoverished families in war-ravaged lands as well as in famine and natural disaster-stricken countries in the Third World.
WHEN and WHERE: Thursday July 22, 2021
2:45 PM – 2:55 PM in the Post Room for a brief Introductory meeting.

3:00 PM – 4:45 PM in the Muirfield Room just down the hall for the meal packaging
HOW: It's easy to volunteer. Just let ICCC Administrator, DeAnn Anzaldi know that you want to help by sending her an email at icccdc@sbcglobal.net.
ICCC Hunger Relief Mission Committee
(Bob Harris, Chair; Myrtis Brame, Jan Burch & Tom Friedberg)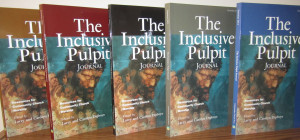 2021 Inclusive Pulpit Submissions Welcome!
Deadline April 30, 2021
Preached any good sermons lately? "The Inclusive Pulpit" – an annual publication of the International Council of Community Churches – would love to hear from you and publish your sermon in our upcoming edition.
Challenged by a good sermon? "The Inclusive Pulpit" would love for you to recruit the preacher to submit that wonderful sermon for publication in our upcoming edition.
Inspired by any good reflections, poems or worship material? "The Inclusive Pulpit" welcomes those submissions as well.
Seasoned pastors, senior saints, new pastors, seminarians, youth group leaders? Help us celebrate the working of the Holy Spirit in the many ministries of the ICCC.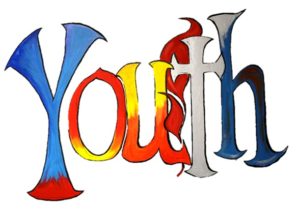 Youth Annual Conference Scholarship

The ICCC will award a scholarship open to any 2021 Youth Annual Conference attendee (entering grade 7 through 12), which will pay for the registration fee and Fellowship Luncheon. Pastors from any ICCC member church may submit to the Council Office their nomination for the award with a letter of recommendation introducing the candidate and explaining why they would like this person to receive the scholarship. For an application, click here.
Nominations must be submitted for review no later than April 30, 2021. They should be sent to the Council Office at 21116 Washington Pkwy, Frankfort, IL 60423, attn: Youth Scholarship. The decision will be announced in the May issue of the Christian Community.
If you would like to make a contribution to the Youth Program Stipend Fund, designate your contribution here through our website, or send a check to the council office with a note of designation.