The 73rd Annual Conference of the International Council of Community Churches will be held at the
Embassy Suites Charlotte
4800 S. Tryon St., Charlotte, NC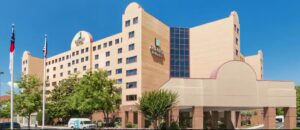 Tuesday July 18 – Friday July 21, 2023
EARLY BIRD SPECIAL thru June 1st, 2023!
$195.00 for Adult Registration.
2023Annual Conference Planning Committee: Jerry Brown, Roberta Smith, Abraham Wright, Nick Brame, Bob Harris, Seretha Pearsall, Bruce Merton, Rhonda Blevins, Saundra Nelson, Bruce Jones and Winessa Crutchfield.
2023 Annual Conference Key Note Speaker

THE REV. DR. CLIFFORD A. JONES
"We Are Family"
The Word Proclaimed by Rev. Dr. Clifford A. Jones
Recognized as one of the outstanding Black pastors/preachers in Charlotte, North Carolina and America, The Rev. Dr. Clifford A. Jones, Sr. will proclaim our conference theme, "We Are Family," rooted in the Word of God as found in I Corinthians 12. Dr. Jones will deliver sermons on the opening day of the conference and on Thursday. On Wednesday and Friday Dr. Jones will be with us for a one hour "Q, A and Comment" session. The "Q, A and Comment" time will allow conferees to enter into extended discussion and interchange with Dr. Jones.
Dr. Jones has been the Senior Pastor of Friendship Missionary Baptist Church in Charlotte for 40 years. Born in Philadelphia and reared in New Jersey, Dr. Jones received his Bachelor of Science degree from Maryland State College; the Master of Divinity and Master of Theology degrees from Southeastern Baptist Theological Seminary; and the Doctor of Ministry degree from the Boston School of Theology. As part of his outstanding ministry, he has done further study at Regents Park College in Oxford, England and the Baptist Theological Seminary in Ruschlikon, Switzerland.
In addition to his outstanding ability to explain and deliver God's Word, Dr. Jones has a great and compelling compassion for the needs of others, locally and globally. Dr. Jones led a delegation to form a solid and working partnership with the Winterveldt School in Mabopane, South Africa. The partnership led to the purchase and building of a fully equipped Christian education center for grades K – 12. In addition, a farm was purchased, three greenhouses were built to provide vegetables for sale, and a brick making machine was acquired so that homes and business buildings could be built while also providing a means for economic interdependence.
In response to children and families struggling with severe poverty, Dr. Jones has organized and led numerous medical and religious mission teams to provide needed healthcare, medical supplies and educational training in Jamaica, Africa and Guyana, South America.
In addition to his many global interests and concerns, Dr. Jones is a dedicated supporter of senior citizen programs. His leadership led Friendship Church to open the first satellite center for the Charlotte-Mecklenburg Senior Centers, offering exercise and other classes for seniors living in the area where the church is located. He serves of the Board of Directors for the Charlotte-Mecklenburg Housing Partnership, Inc.
Dr. Jones holds or has held many leadership positions including being a trustee for Morris College and Hood Theological Seminary, Vice President of the Baptist World Alliance and President of the General Baptist State Convention of North Carolina, Inc.
The Friendship Missionary Baptist Church has been blessed by God and the exercise of Dr. Jones' gifts and talents with a 115 acre campus. In addition to the church and its facilities, this land is being developed to provided intergenerational daycare, assisted living for seniors, an Alzheimer's center, a hospice house, single family dwellings, offices, a park shelter and amphitheater.
Among the many, many awards and recognitions he has received are "Senior Father of the Year, Black Fathers Rock," The Nelson Mandela Award from the National Baptist Convention in the USA, keynote for the 2007 National Political Black Caucus Prayer Breakfast, the Duke Divinity School – Gardner C. Taylor Lecturer, and the "Beautiful Are the Feet Award," at the Samuel DeWitt Proctor Conference.
Published works include "The Star book of Stewardship," "Becoming and Practicing What It Means to Be a Christian," "Consuming Passion: Christianity and the Consumer Culture," and "From Proclamation to Practice: A Unique African American Approach to Stewardship."
Dr. Jones is married to the former Carolyn Brenda Reynolds. They are the proud parents of Mrs. E. Renee Darity, Rev. Michelle A. Jones, Pastor Anthony Jones, Jr, (Courtney) and Miss Alexa Mariah Fortune Jones. Dr. and Mrs. Jones have one adored granddaughter, Miss Michelle A. Jones (Jr.).
Our conference, in general, and you, specifically, will be richly blessed as we listen to and absorb the proclamation and insights that Dr. Jones will bring to us.
Nomination Recommendations are needed!
Under the ICCC Bylaws, the Board of Directors acts as the Nominating Committee for the Council. Terms of office begin at the close of the Annual Conference. If you have suggestions for nominees or if you wish to be considered as a nominee for an office, please respond no later than J. Nominations will be presented to the Annual conference business session, at which time additional nominations from the floor are in order. The available positions are:

Board of Directors – Class of 2026:
Vice President for Financial Development – Serves one term for three years.
Vice President for Membership Services* – Serves one term for three years.
Vice President for Ecumenical and Interfaith Relations* – Serves one term for three years.
Vice President for Informational Services and Outreach* –
Serves one term for three years.
Board of Trustees – Class of 2026:
Eastern Zone, Region A*, includes states MA, CT, NJ, NY City and Long Island, NY – Serves one term for three years.
Eastern Zone, Region B, includes states VA, DE, Washington DC, MD – Serves one term for three years.
Central Zone, Region A*, includes states IL, IA, IN, WI, MN, MO, OK – Serves one term for three years.
Central Zone, Region C, includes states TN, KY, LA, AR, AL – Serves one term for three years.
* the current leadership for this position is eligible for re-election.

Your Input is vital:
When recommending an individual for service in any of the above positions, please be sure that the individual is willing to serve. Descriptions of all ICCC leadership positions can be found at https://www.icccnow.org/constitution-bylaws/. Then, inform the nominating committee of the name of the individual, their contact information and the position for which you are recommending them. Please include with your recommendation, a brief profile of the individual, including the name of the church or ministry center in which the person holds membership, activities with that congregation, and activities with the ICCC. Please send this information to both ICCCNOW@sbcglobal.net and cs83nick@aol.com.
Conference Youth Scholarship
If you know a teen who would like to attend the conference in Charlotte, but needs some financial assistance, we have a plan. We have scholarship assistance available to pay for the registration fee of a Youth attendee. To apply for the scholarship, the following procedure will be used:
1) The scholarship is open to any Youth attendee (entering grade 7 through 12) and covers the regular registration fee and Fellowship Luncheon.
2) Pastors from any member church may submit their confidential nomination for the award with a letter of recommendation introducing the candidate and explaining why they would like this person to receive the scholarship.
3) Nominations must be submitted for review no later than April 30, 2023. They should be sent to the Council Office at PO Box 846, Longmont, CO 80502, attn: Youth Scholarship. Or email to ICCCNOW@sbcg

lobal.net
4) The submissions wi

ll be revie

wed and presented to the ICCC Board of Directors for approval.
5) The ICCC President will communicate the board's decision to the recommending pastor to notify the recipient. The decision will also be announced in the June issue of the Christian Community. The winning recipient would be notified soon after the April 30th deadline.
APPLY TODAY!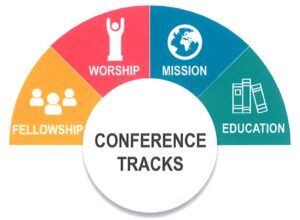 CHOOSING THE RIGHT "TRACK" FOR A GREAT CONFERENCE EXPERIENCE
Reported by Dr. Bruce Merton
Last year my wife, Jill, and I were joined by four other members of our church family on a trip to Switzerland. It was an excellent experience and thoroughly enjoyed by all that went. During the trip I was reminded of the fact that while all of us had a great time in the same place, during the same time frame, and sharing some of the same experiences, the trip was really unique for each of us!
This was driven home by our trip from Zermatt to St. Moritz. We gathered at the Zermatt train station where we observed four different trains. We were boarding the Glacier Express for an 8 hour trip to St. Moritz. I was surprised to learn that the other three trains were also going to St. Moritz, but they were taking different tracks to get to the same destination.
The uniqueness of our trip for each person was in the fact that we were each afforded many opportunities to do things and have experiences that were geared to our own interests, inclinations and tastes. We all went to the common destination of Switzerland, but we each traveled a different "TRACK" and that contributed to our individual and shared joy.
This is being written to introduce all conference attendees to the fact that our conference structure is receiving significant change this year and for the future. Like the Switzerland adventure previously mentioned, we will all share a common conference experience. The conference will be held for all at the Embassy Suites Hotel on Tryon Street in Charlotte, North Carolina. We will all experience conference during a common time frame – Tuesday, July 18 to Friday, July 21. We will all share in the worship services of Tuesday and Thursday. We will all experience the Bible Studies, but each person present will get to put their own unique stamp on the conference experience by following an interest oriented TRACK that will allow you to mold and shape your conference experience based on your interests, inclinations and tastes. Conferees will be able to choose a TRACK that will enable them to focus on FELLOWSHIP, WORSHIP, MISSION or EDUCATION.
Each conferee will be asked to choose a TRACK focused on your primary interest to be followed during the conference. PLEASE NOTE: You are welcome to attend offerings in other tracks based on appeal, interest or need.
If you particularly enjoy the FELLOWSHIP experience of conference, you will choose that TRACK and, in addition to the commonly shared worship, Bible study and meals, you will partake in fellowship building activities and workshops.
If you come to conference with a particular interest in EDUCATION, you will choose the EDUCATION TRACK and find yourself immersed in activities like a book study and discussion, conversation with the Bible study leader, and workshops that educate you on a variety of topics.
Do you come to conference with mission on your mind and heart? You will enjoy and enhance your conference experience by following the MISSION TRACK. This TRACK will allow you to experience "hands on" mission opportunities along with workshops and presentations from and about our ICCC mission partner.
Is the experience of worship a driving force for your conference attendance? Follow the WORSHIP TRACK for experiences such as "Keynote Conversations" with our worship preacher, Dr. Clifford Jones; worship through music and workshops about improving, planning and doing worship in your church setting.
The new structure is a product of a mandate from the Board of Directors to "Reform, Reframe and Re-Vision" the conference experience. The structure is evolving and, as with everything new and different, there will be "growing pains," imperfections, needs for "tweaking" and ongoing revisions. Please be patient as the new structure takes its shape and form. Your constructive criticisms and suggestions will be welcomed, considered, and, if appropriate, implemented.
Let's gather together in Charlotte for a great conference that will show "We Are Family "even though we experience family from our own unique perspective and spirit. Register February 1st and choose the TRACK that is best for you!