Hotel Information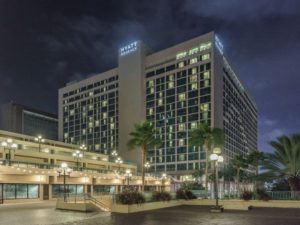 The 2018 Annual Conference will be held at the Hyatt Regency Jacksonville – Riverfront, 225 E. Coastline Drive. Jacksonville, FL 32202. Phone: 904-588-1234
Just 15.1 mi. from Jacksonville Int'l Airport, you can explore Jacksonville's charm right from the hotel with shopping, dining, museums, sporting events and more all within reach. The Hyatt offers an outdoor rooftop pool, hot tub and bar, 24-hr fitness center, gift shop, FedEx business center, concierge and a shuttle service to take you within 3 miles of the hotel.
All accommodations offer free Wi-Fi, Hyatt Grand Bed, spectacular views, TV & cable, individual climate control, electronic door lock, full bathroom amenities, coffeemaker with complimentary coffee and more. It's also pet friendly!
Hotel Dining:
Trellises Restaurant serves breakfast, lunch and dinner in a casual atmosphere with an emphasis on fresh regional favorites.
JAXX Sports Bar offers all the sports on big screen TV's while enjoying light fare and a great selection of beer, wine and spirits.
Currents Lounge is a great meeting place for cocktails and conversation, Starbucks and breakfast items to go, and provides wireless internet access. Open 24/7. Room Service is also available, along with many eating options within walking distance of the hotel.
Hotel Reservations
For those conferees planning on attending the conference you will need to call the Hyatt Regency Jacksonville – Riverfront to reserve your room at 888-421-1442. Inform the reservations clerk that you are attending the 2019 ICCC Annual Conference to get the special rate of $120.00 + tax per night. The cut-off date for hotel reservations is June 28, 2019. After this date, normal hotel rates will be in effect and space may no longer be available. Please note: the special rate of $120 + tax is negotiated only for conferees. Those utilizing this special rate are expected to register for the conference. Thank you for your cooperation.
Check-in: 3:00pm
Check-Out: 12:00pm
Transportation To and From the Hotel
Airport Transportation from JAX: East Coast Transportation is the Hyatt's exclusive ground transportation provider, in conjunction with GO shuttle services. For information, call 904-722-9494 or click here For other transportation options visit: www.flyjacksonville.com
Self-parking is available at the hotel, if you are driving or renting a car. The discounted nightly self-parking cost is $15.00 per night.