Hotel Information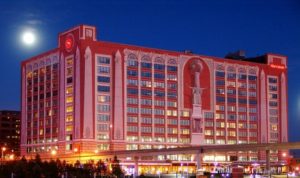 The 2018 Annual Conference will be held at the St. Louis City Center Hotel, 400 S. 14th St., St. Louis, MO 63103. Phone: 314-231-5007
Conveniently located just 20 minutes from Lambert International Airport, across from the Scottrade Center and MetroLink Light Rail Station. A short distance to local attractions via MetroLink, such as the Gateway Arch, Busch Stadium and the Ballpark Village, MO Botanical Gardens, City Museum, St. Louis Zoo and more.
Hotel Dining:
Bistro 14 restaurant has American-style entrees as well as local specialties. The chef's daily lunch special options allow for tasty and healthy dining. Breakfast, lunch and dinner are served. A breakfast buffet is available as well.
Columns, the lobby lounge, offers a relaxed space where guests can enjoy a signature cocktail or a featured draught beer, connect before and after events, and grab a bite to eat. With several televisions in a cozy living room atmosphere, you can watch a game, weather, or news.
Room Service is also available, along with many eating options within walking distance of the hotel.
Hotel Reservations
For those conferees planning on attending the conference you will need to call the St. Louis City Center Hotel to reserve your room at 855-537-4770. Inform the reservations clerk that you are attending the 2018 ICCC Annual Conference to get the special rate of $119.00 + tax per night. The cut-off date for hotel reservations is June 20, 2018. After this date, normal hotel rates will be in effect and space may no longer be available. Please note: the special rate of $119 + tax is negotiated only for conferees. Discounted guestroom rates apply 3 days prior and 3 days post based on availability. Those utilizing this special rate are expected to register for the conference. Thank you for your cooperation.
Check-in: 3:00pm
Check-Out: 11:00am

Transportation To and From the Hotel

Airport Transportation from STL:
For transportation options visit: https://www.flystl.com/parking-and-transport/transportation
Self-parking is available at the hotel, if you are driving or renting a car. The discounted cost is $6.00 a day for overnight self parking. Daily event parking is complimentary for attendees.
The MetroLink Light Rail Civic Center Station is across from the hotel. Please visit https://www.metrostlouis.org/metrolink/ for travel information.